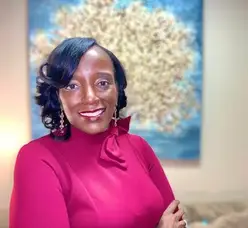 Welcome!
Welcome to SMR Counseling Services. My name is Dr. Shauna Moore Reynolds and I am the founder and Executive Director of SMR Counseling Services. I created SMR Counseling Services to serve the needs of those who desire professional therapy outside traditional appointment hours and settings. We meet these needs by offering appointments late evenings, Saturday, Sunday, by phone, online and home visits.
I began my career in Houston, Texas in 1996 working with individuals and families in crisis. I loved my position so much that I dedicated myself to obtaining the education and training necessary to one day open a counseling office that meets the needs of the community. To prepare, I obtained my bachelors in Social Science, my master's in Behavioral Science, and my doctorate in Counseling. In almost 20 years in the area of counseling, I have attended over 200 trainings, seminars, and conferences to stay on top of new techniques and trends in counseling.
I am an interactive, solution-focused therapist and my therapeutic approach is to provide support and practical feedback to help clients effectively address personal life challenges. With compassion and understanding I provide a personalized approach tailored to help each individual, couple, or family build on their strengths and attain the growth they are committed to accomplishing. I am a Christian, and a member of The Peoples Community Baptist Church in Silver Spring, Maryland. I am happily married with a adult daughter. I enjoy spending time with family, traveling, reading, and most of all, helping others. [email protected]
Learn more about Dr. Shauna's speaking engagements at Dr. Shauna Speaks!
Education
Doctorate of Education in Counselor Education and Supervision - Texas Southern University
Masters of Education in Behavioral Sciences - University of Houston
Bachelors of Arts in Social Sciences - University of Houston – Downtown
Teaching Experience
The Chicago School of Professional Psychology
Johns Hopkins University - Department of Education
Loyola University of Maryland - Pastoral Counseling Department
University of Maryland Global Campus
Montgomery College (Maryland) - Department of Psychology
Montgomery College (Texas) - Department of Psychology
Licensure
The Maryland Board of Professional Counselors - Licensed Clinical Professional Counselor (LCPC) - - License #LC4866
The Maryland Board of Professional Counselors - Approved Clinical Supervisor (ACS) -- License #1101
Washington, D.C. Board of Professional Counseling - Licensed Professional Counselor (LPC) - - License #PCR14291
The National Board of Certified Counselors - National Certified Counselor (NCC) - - License #317138
Center for Credentialing Education - Approved Clinical Supervisor (ACS) - - License #2124
Affiliations
American Counseling Association
Maryland Counseling Association
D.C. Mental Health Counselors Association
Texas Counseling Association
Chi Sigma Iota Counseling Academic and Professional Honor Society
Awards
Maryland Counseling Association - Winner of Counseling Association Logo Design Contest
Chi Sigma Iota - Counseling Honors Society
Scholarship- Houston Counseling Association
Texas Department of Family and Protective Services-Teamwork Award 2001, 2002, 2003, 2004, 2005, 2006
U.S. Attorney's Office "On The Spot Award" 2009, 2010, 2011, 2012
Publications
Book: Twenty Issues in Teaching African American Pupils: A Collective Experience of What Works Edited by Manson, Tony J. Article: " Report Card: NO AFRICAN AMERICAN CHILD LEFT BEHIND" by Joseph L. Jefferson, Charles R. Glass, Dora A. Whiteside, James E. Rucker III, and Shauna Moore.
Article: "An Analytical Comparison of the Anxiety Levels of Female Intimate Partner Violence Victims during the Initial Abuse Reporting Stage." The Voice; National Coalition Against Domestic Violence. Fall 2011.
Workshops Facilitated:
Post-Traumatic Stress Disorder, Intimate Partner Violence and the Military War Veteran
Self Care for Mental Health Professionals
Domestic Violence 101
Unhealthy Relationships
Healthy Relationships
Using Your Experience with Violence to Help Others
Warning Signs of an Unhealthy Relationship
Overcoming Anxiety
Building Self-Esteem
Teen Dating Violence
Overcoming Grief
Grief for Teens
Managing Cumulative Stress
Achieving Work Life Balance
Speaking Engagements:
Texas Southern University - Department of Education Gala
Licensed Clinical Professional Counselors of Maryland
The District of Columbia Clinical Counseling Association
Maryland Counseling Services
The District of Columbia Office of the Attorney General
The United States Attorney's Office
Texas Counseling Association Conference
Houston Counseling Association Conference
The District of Columbia Metropolitan Police Department
National Park Police Domestic Violence Training
Texas Southern University Research Week
The Lamar University Educational Research Conference
Chi Sigma Iota (Tau Sigma Upsilon Chapter)
The People's Community Baptist Church Domestic Violence Conference
The Pennsylvania Avenue Baptist Church Domestic Violence Summit
Interfaith Community Against Domestic Violence
National Wesleyan Church Domestic Violence Summit
Restore the Joy Domestic Violence Empowerment Luncheon
Office of the Commissioned Corps Force Management
Faith Based Collaborative Outreach Group
The District of Columbia Department of Corrections Treatment Facility
The Mount Sinai Baptist Church Domestic Violence Summit
The National Collegiate Preparatory Public Charter School
H.D. Woodson High School
New Dimensions Baptist Church
Department of Energy
United States Coast Guard
Environmental Protection Agency